Roaring Red
Perfect Blend of Baco Noir & Merlot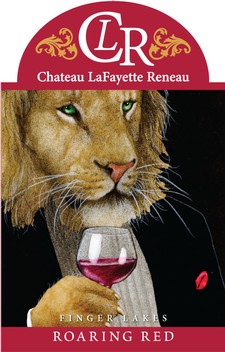 Wine Specs
Vineyard Designation
Finger Lakes
Smooth and fruit forward with hints of blackberry and plum with soft tannins and a subtle sweet finish.
Wine Specs
Vineyard Designation
Finger Lakes
Wine Profile
Tasting Notes
Bold plum hue with layers of cherries and spice. A medium dry red table wine rich in texture and smooth in finish.
Awards
Double Gold—Finger Lakes International Wine Competition Silver—New York Wine & Food Competition
Winemaker Notes
A blend of 80% Baco Noir and 20% Merlot.
Food Pairing Notes
Perfect for southern Italian Pasta Dishes and Pizza.
Product Reviews
John Leon
(Sep 20, 2016 at 6:52 PM)
I picked up a bottle of Roaring Red in Ithaca this past summer along with some other bottles of wine. My wife and i opened it this past weekend - what a great wine, low in tannins. It is somewhat unusual that both of us really like the same wine, but this is a 5 star. The wine is ready to drink now. The wine is smooth, silky to be exact. You can't go wrong with purchasing a bottle of Roaring Red plus it has a great label.
Ruth Landry
(Nov 16, 2016 at 12:55 PM)
This is our favorite red wine from CLR...just can't go wrong with it!
Wanda Chaparro
(Dec 13, 2016 at 6:38 PM)
Roaring Red is a simple but complex wine. It taste great, its smooth, goes well with everything, and as some else mentioned; the label becomes a conversation piece.
SammyO
(Mar 8, 2018 at 6:43 AM)
This product is high quality but i found it much cheaper here: amzn.to/2oRtYcE
Patty
(Sep 29, 2020 at 6:01 PM)
We visited last week and tried the red flight which did not include this one. I took a chance and bottle. Oh how I wish I had bought more. Wish they could deliver to Michigan!