Cuvee Rouge
A Blend of Pinot Noir & Baco Noir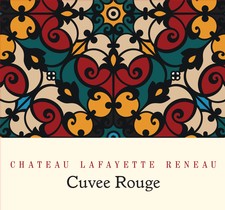 Wine Specs
Vineyard Designation
Estate
Wine Specs
Vineyard Designation
Estate
Wine Profile
Tasting Notes
An extremely smooth blend of Baco Noir and Pinot Noir grapes. A bright, lively, bold semi-dry red with a velvety texture that complements any food pairing.
Awards
Gold—Tasters Guild International Gold—New York State Fair Silver—American Wine Society Bronze—New York Wine and Food Classic
Product Reviews
DAVID A BISHOP
(Sep 21, 2016 at 3:47 PM)
Not too dry for those who want just a little sweetness in their red...would pair well with any meal... Goes down smooth without a bite...very economical too!
Wanda Chaparro
(Dec 13, 2016 at 5:54 PM)
Excellent wine, the first taste is like an explosion of complex flavors in your mouth. It goes well with any meal or alone!!! If you love good red wines, this one is for you.
Michele Lukovich
(Jan 22, 2017 at 2:58 PM)
This is by far my favorite red wine. I buy it by the case at my local shop. This is also exceptional in the fact that it is only a 12% ABV red, which is hard to find.
Mike,Agnes cannan
(May 3, 2017 at 1:45 PM)
This is our favourite go to wine,by itself or any meal.always on hand at our home
Miranda Cross
(Nov 2, 2017 at 1:52 AM)
LOVE THIS WINE!!!
Reina Morris
(Dec 6, 2017 at 7:15 PM)
Great tasting wine. It's a bold, flavorful experience that goes great with any food pairing or just to enjoy alone.
Tonya Possessky
(Feb 19, 2019 at 2:53 PM)
My husband and I have been buying this wine for years ! Our absolute favorite. Pairs with anything and great by itself!
Diana Basmajian
(Feb 15, 2022 at 7:29 PM)
Delicious. My favorite red.