The Women of Chateau LaFayette Trio of Wine
a Reading Between the Vines Adventure with Stephanie Dray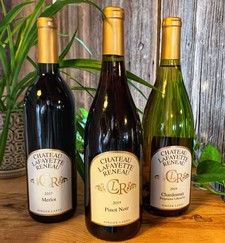 We are grateful for the opportunity to partner with Adventures by the Book to celebrate the re-release of The Women of Chateau LaFayette. Inspired by the book, our women-led management team designed a 3-pack of our Estate wines for readers to enjoy during our virtual happy hour with author Stephanie Dray, or anytime while reading The Women of Chateau LaFayette.
Enjoy our exclusive trio of Estate wines for $39.99 (Retail value $62.00)
2022 Barrel Fermented Chardonnay
2019 Pinot Noir
2017 Merlot
Available for purchase online & over the phone.
Call to order 607-546-2062.
No additional discounts apply. Standard shipping rates apply.
Product Reviews