Riesling Sweet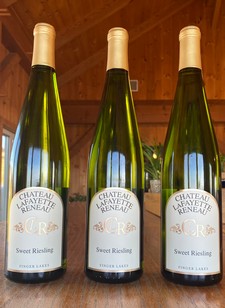 Wine Profile
Tasting Notes
This sweeter yet delightfully balanced Riesling with notes of honeysuckle, green apple, peach and pineapple is a perfect example of this signature Finger Lakes wine.
Product Reviews
Christine Pagana
(Aug 5, 2023 at 5:44 PM)
My husband and I shared half a bottle and it is our new favorite- sweet with fresh fruity flavor with a hint of dry; best of both worlds. Super tasty and it Compliments and array of side treats….
Christine & Mike @Halfway Acres
(Aug 5, 2023 at 6:00 PM)
Our new shared favorite wine- sweet fresh and fruity; pairs well with an array of side treats- soft and goes down easy….so delicious!