2015 Riesling Dry
Best of Class, Double Gold - Jerry D Mead Int'l Wine Competition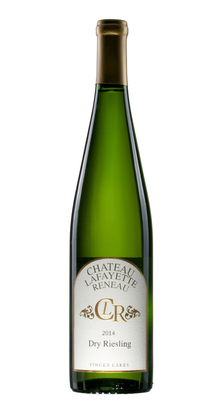 Wine Specs
Vineyard Designation
Estate
Harvest Date
October 10, 2015
Bottling Date
August 3, 2016
An appealing aroma of peach, perfectly structured to enhance any meal. Dry with elegant melon fruit and notable citrus character. A bright acidity, perfectly balanced.
Wine Specs
Vineyard Designation
Estate
Harvest Date
October 10, 2015
Bottling Date
August 3, 2016
Wine Profile
Awards
Double Gold, Best of Class - Jerry D Mead New World International Wine Competition; Chairman's Award, Best in Class - Riverside International; GOLD - Los Angeles Wine and Spirits; GOLD - Finger Lakes International; GOLD - NYS Fair; GOLD - New York Wine and Food Classic; GOLD - Dan Berger's International
Product Reviews
Mariana GRECHNIV
(Oct 30, 2017 at 9:54 AM)
Spectacular crisp, delicate but exciting , delicious blooms on your tongue. Love it, bought4 bottles, wish I bought a case!
Val S
(Dec 5, 2017 at 2:41 AM)
I am a Riesling aficionado. Of all the Rieslings I've ever tasted, both dry and semi-dry, Chateau Lafayette Reneau's Dry Riesling is the best, bar none. It is delightfully light and crisp, almost like biting into a tart apple, with a soft dry down and none of your usual metallic aftertaste. Chateau Lafayette Reneau has elevated Riesling making to a true art form.