Chocolate & Wine - Valentine's Day Weekend
Decadent Desserts & Unbelievable Views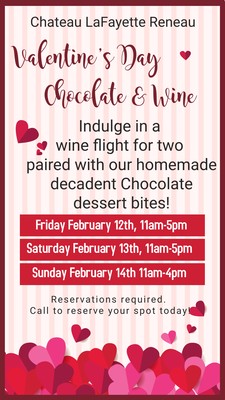 Purchase one ticket today for two people to enjoy a special Valentine's Day event at Chateau LaFayette Reneau. After you purchase your ticket, we will call you to schedule your reservation for February 12-14, 2021.
Reservation spots are limited and will be filled on a first come first serve basis.

Maximum group size for this event is 6 people. If you are a group of 6 you will need to buy 3 tickets!
The pricing online does includes local taxes and fees.

Each Ticket includes:
1 hour reserved at a private table overlooking Seneca Lake (stay longer if you would like to enjoy more wine and snacks.)
1 flight of wines to be shared for two people
1 of each homemade Chocolate per person
Take home 2 CLR Logo glasses.


All prepaid tickets are subject to a 48-hour cancellation policy. If you cancel within 48 hours of your scheduled reservation, there will be a $10 cancellation fee, and the remainder will be refunded.


COVID-19 RULES AND RESTRICTIONS
MASKS & SOCIAL DISTANCING A MUST WHEN VISITING.
Our #1 priority is the health and safety of our guests and staff. We have implemented several safety protocols for the well-being of everyone who visits Chateau LaFayette Reneau. We ask that you do your part by committing to a few important changes.
Healthy Guests: those who have been exposed to Covid-19 recently or are experiencing symptoms of Covid-19 should stay home and prevent exposure to Chateau LaFayette Reneau guests and staff.
Face Coverings: Face coverings / masks are required to be worn at all times unless seated at your table. Guests are asked to not roam freely or visit table-to-table / guest-to-guest without a face covering.
Social Distancing with our Staff: Unless seated, guests must maintain social distancing standards (at least 6ft) with all Chateau LaFayette Reneau staff.
Clean Hands: Guest should wash their hands frequently and use provided hand sanitizers while visiting.
Be Patient and Be Kind: This is new for all of us. With changing information, rules and regulations changing frequently, we ask that guests please treat fellow guests and staff with patience, kindness, and compassion and we'll do the same!