2019 Dry Pinot Noir Rosé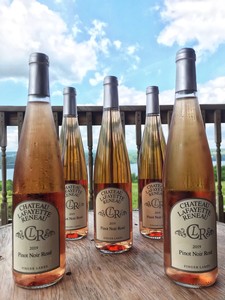 Wine Specs
Vineyard Designation
Estate
Harvest Date
September 27, 2019
Bottling Date
March 1, 2020
Wine Specs
Vineyard Designation
Estate
Harvest Date
September 27, 2019
Bottling Date
March 1, 2020
Wine Profile
Tasting Notes
Aromas of spring flowers such as lilac and tulip. On the palate, bright yet subtle white-rim of a strawberry and pomegranate. A balanced mid-palate which follows through to a faint pomegranate seed finish.
Awards
This wine has been awarded a Silver medal in the 2021 New York Wine Classic.
Winemaker Notes
Pinot Noir brought in at 22.5 brix, lightly pressed with 140 gal/ton, low pressure. Pressed and treated as if it were a sparkling wine. Fermented in stainless steel at cool temp for 3 weeks, stopped fermentation at preferred sweetness. Racked and stabilized for 8 months, filtered and prepared for bottling.
Product Reviews
Duane Kleckner
(Apr 2, 2020 at 4:06 PM)
The 2019 is probably the best Rose' I have ever had and Chateau has had some pretty good ones over the past couple years.
Lori Ann
(May 25, 2021 at 5:59 PM)
Sampled the wines from from the first sip- fell in ❤️❤️❤️❤️- bought a case! Awesome rose!!!